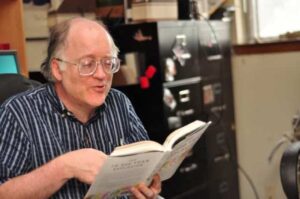 This story has been floating around for a while, but no one seems to have written it up for a post (I tweeted it in February). Well, I believe in exposing bad actors in one's own camp, so he we go.
Gregory Cochran coauthored an interesting book, The 10,000 Year Explosion: How Civilization Accelerated Human Evolution, in 2009 with Henry Harpending. At some point, wealthy benefactor Ron Unz decided to sponsor Gregory Cochran with some money. We know this from the public filings (archived):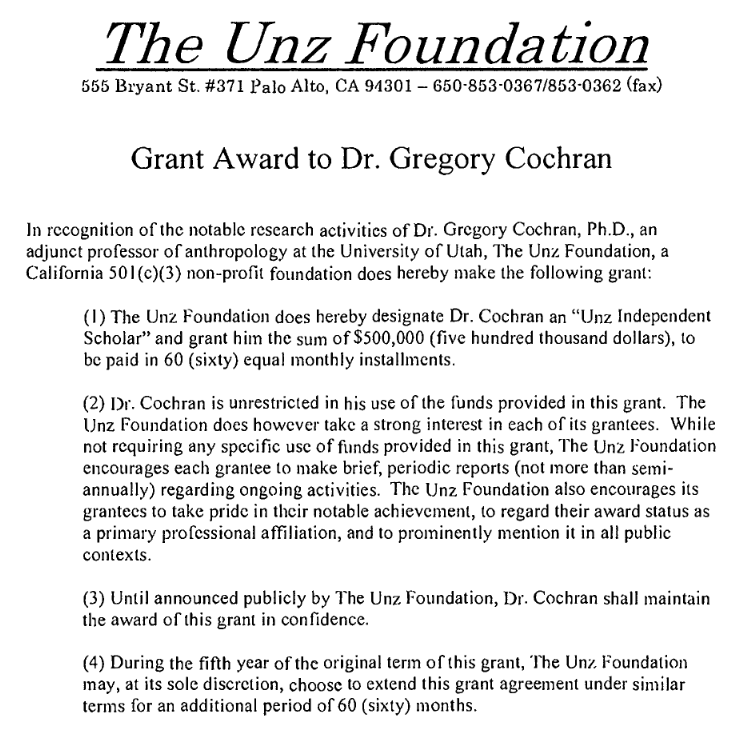 It was later amended to continue for another year: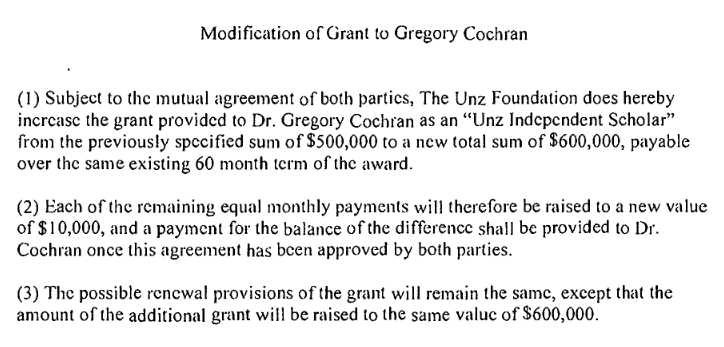 And what did Cochran do with these money? Not much. Let's look at his research output. Here's the ResearchGate profile: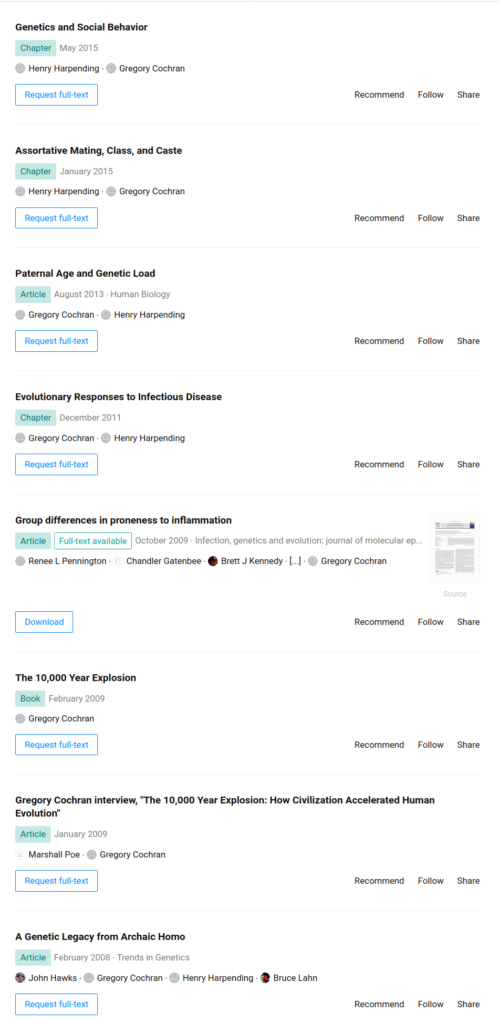 The filing above is from 2009, so the scholarship ran from 2009 to 2015 or so. There isn't much to see here. Cochran doesn't have a Google Scholar, but we can see some results. There is an automatically generated page at Semantic Scholar here. Neither changes the picture. The only thing Cochran seems to have been doing is tweeting and blogging, mostly with inane lazy comments. What did it get spent on? Who can say? Cochran isn't in any legal trouble, since the money was given no strings attached "unrestricted in his use of the funds".
Ron Unz himself, wasn't too pleased. He commented on the issue a few times. Anon asked why Cochran's blog wasn't being added to Unz.com, and Ron replies, December 14, 2016:
Later on, in 2020, David Pinsen writes in the comments:
To which Ron Unz replies:
Unz is referring to some discussions about his own holocaust revisionism, irrelevant for the purpose of this post.
What does Cochran say in his defense? Well, apparently, nothing. I haven't seen him comment on this. I pointedly asked him on Twitter a few hours ago, will update if he replies…
---
Why do I spend my time on this? Despite what some academics try to show, there isn't a lot of funding for this kind of dissident research. So it mostly just doesn't get done at all. James Flynn noted this a long time ago, 2012:
The collapse of the Ice Ages hypothesis does not, of course, settle the debate about whether there are racial differences for genes for intelligence. If universities have their way, the necessary research will never be done. They fund the most mundane research projects, but never seem to have funds to test for genetic differences between races. I tell US academics I can only assume that they believe that racial IQ differences have a genetic component, and fear what they might find. They never admit that the politics of race affects their research priorities. It is always just far more important to establish whether squirrels enjoy The Magic Flute.
So when there is a rare individual like Ron Unz who is willing to fund dissidents, even those he disagrees with (!), and that money gets mostly wasted on a loud mouthed buffoon, and this causes said wealthy guy not to want to sponsor other researchers in that area, this is a matter of concern worth blogging about.
---
Paul Hundred rewards us with this gem: